Support the Disability Community: Winter Fundraiser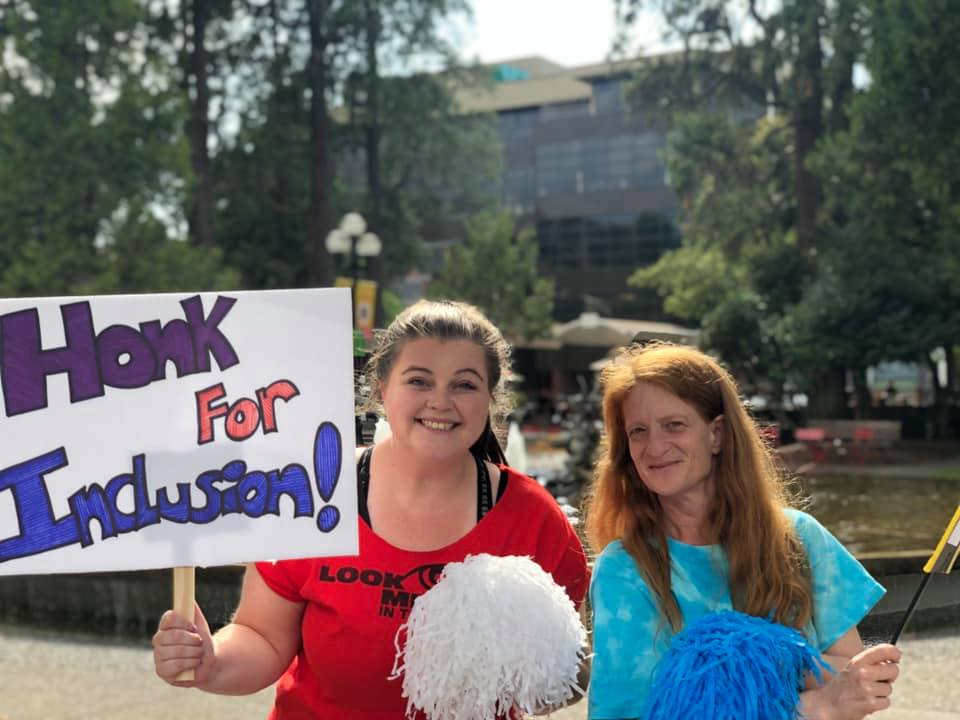 We're excited to tell you about our plans for this year's Giving Tuesday, November 28th, a Global Day of Generosity right after Thanksgiving. Our goal is to make this Giving Tuesday a big success for people with disabilities in our community. Our fundraising initiatives include a Winter Drive, selling Full Access merchandise, and requesting cans & bottles from the community!
What is Full Access?
Established in 2002, Full Access is a non-profit agency that is committed to providing case management services to adults with intellectual and developmental disabilities. We are a fully state funded agency that connects our clients to important resources to ensure they have the support they need to meet their needs and goals. This could include a referral to Vocational Rehabilitation which is a state funded agency that helps people with disabilities find & keep a job, transportation to access their community, environmental modifications to a client's home to ensure their house is accessible, paying support providers to help clients become more independent by learning new skills such as money management, transportation, help with socialization, meal preparation, housekeeping, and more! There are many services Full Access can pay for on a client's behalf, but we can also refer clients to outside agencies when we are unable to pay for a service. Lane County is full of resources for vulnerable communities, and we make sure we know about them for our clients!
Where Your Donations Go: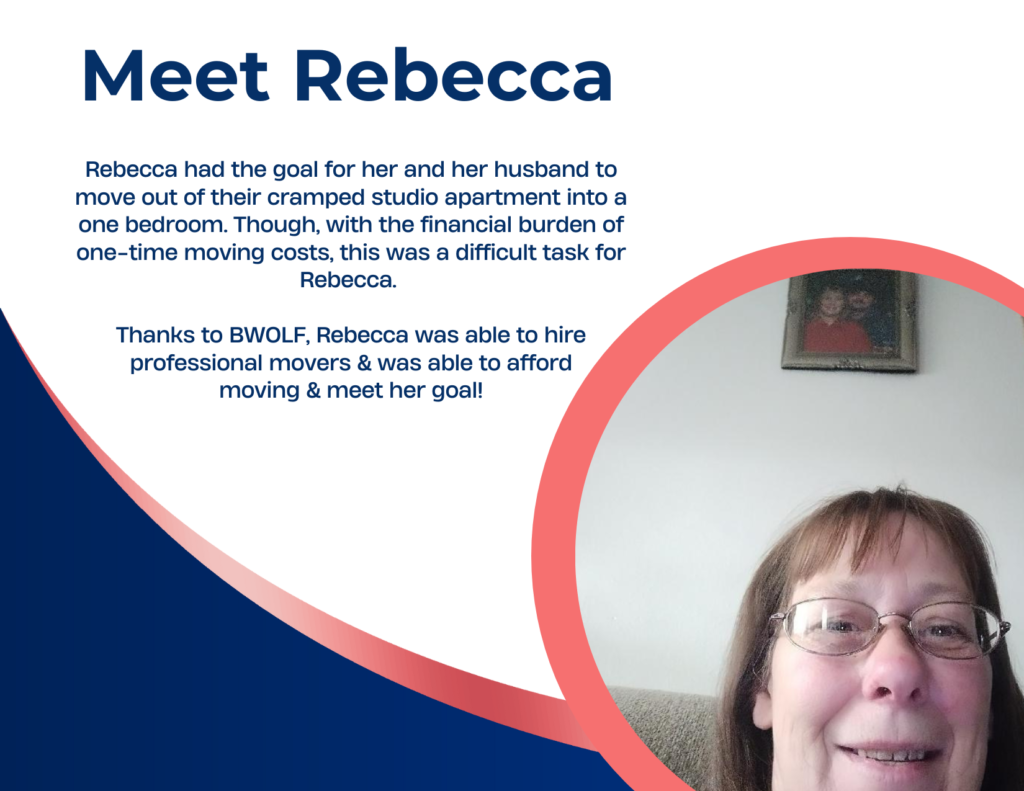 Since Full Access is fully state funded, all funds raised go directly towards our Better Way of Life Fund (BWOLF). When we are unable to pay for a service a client needs, and we cannot find a free resource, BWOLF comes to the rescue! We ensure that when needed, clients have access to this extra fund to help them meet their needs & goals. This can include help with the first and last month's rent, financially recovering from natural disaster, as well as help meeting a goal such as learning how to drive. Your support can make a big difference in their lives! Check out our social media to read client BWOLF success stories & learn more about how this fund supports them.
Winter Drive: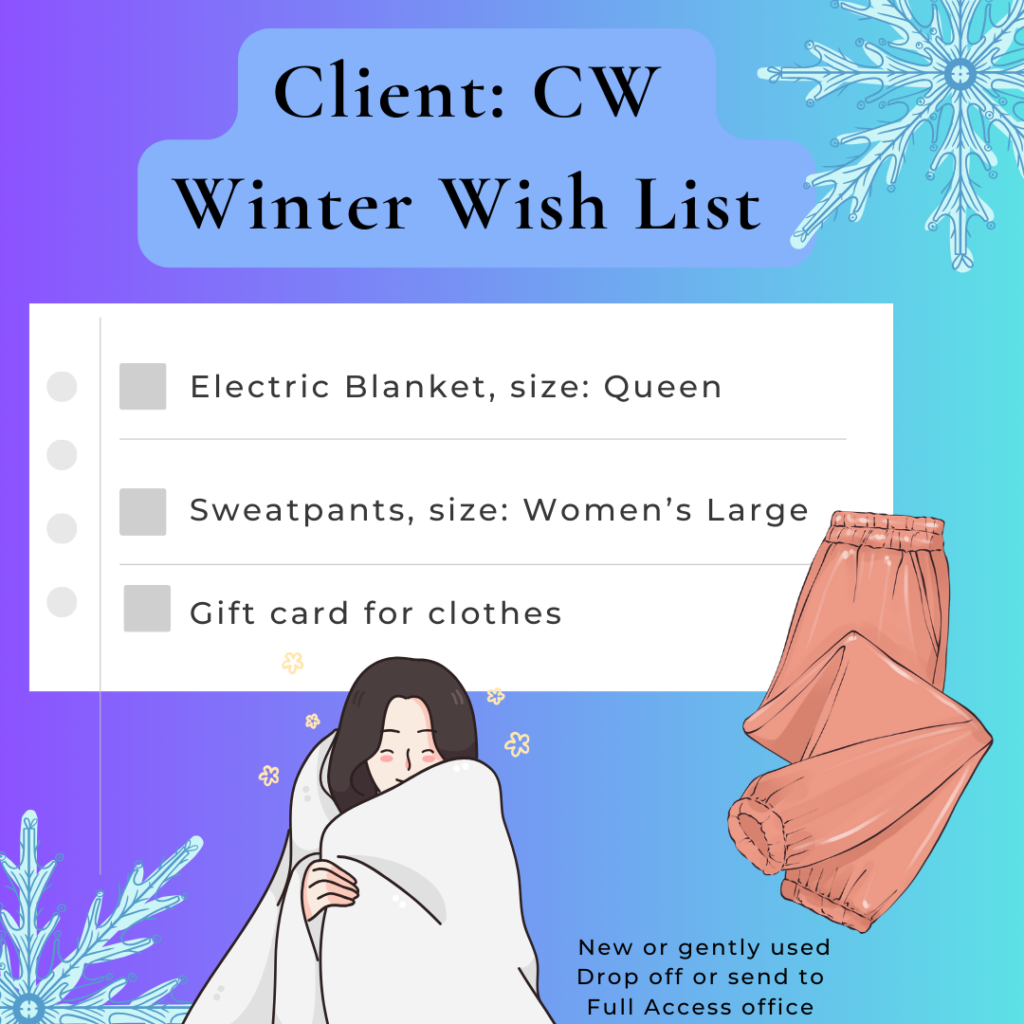 First, we're running a winter drive from November-March. Many of our clients experience houselessness or are underhoused, and need warm clothes for the cold and rainy winter. We talked to them to find out what they need the most and made wish lists on their behalf. You can buy items from the wish lists and either send them to our office or drop them off. We'll make sure these items get to our clients.
Full Access office address: 1240 Charnelton Eugene, OR 97401
Want to see if a client already received an item on the wish list? Reach out to Maggie Van Wey, our Community Engagement & Development Coordinator, before making a donation!
Phone: (541) 870-9125
Email: Mvanwey@fullaccess.org
Client wish lists:
Client: CW
-Electric Blanket
-Sweatpants, size: Women's Large
-Gift card for clothing
Client: JB
-Rain Jacket, Size: Women's XL
-Waterproof boots, Size: Women's 10
Client: JL
-Rain Jacket, Men's L
-Rain Pants, Size: Men's L
-Compression socks
-Waterproof boots, Size: Men's 10.5
Bottle Drop Give: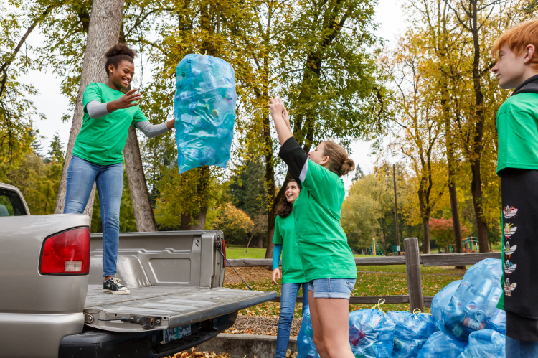 All proceeds from cans & bottle donations made between November 15th-December 2nd will be matched 20% by Oregon Bottle Drop!
Here's how to help us the most during this contest:
Drop off your cans & bottles at our office
Get blue bags from our office to put your cans & bottles in
Post fun content with your blue bags on Facebook or Instagram with the hash tag #holidaygive2023 and #BottleDropGive and tag @oregonbottledrop and Full Access to help us enter the social media contest
Need us to pick up a large quanity of bottles? Schedule a pick-up time with us, email Maggie Van Wey at Mvanwey@fullaccess.org
Buy Full Access Merchandise: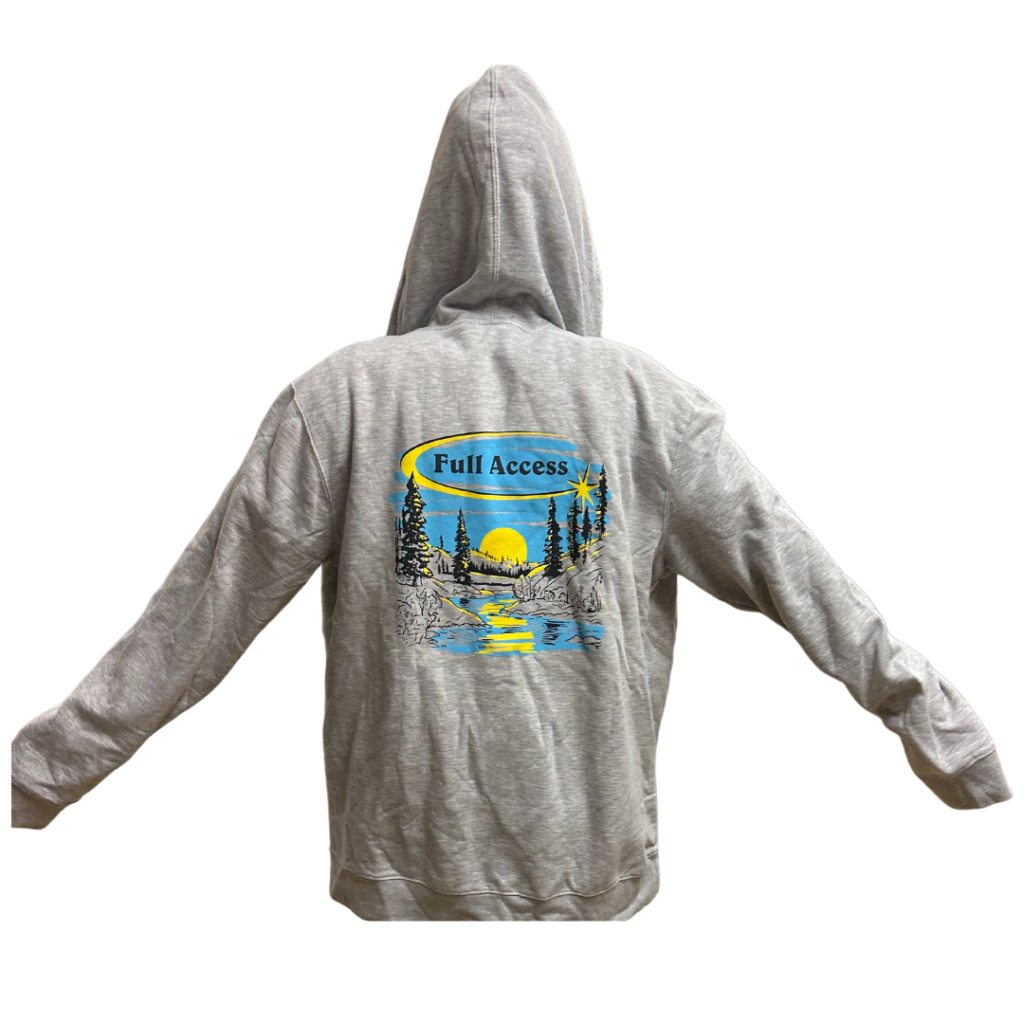 Another way you can support us is buying Full Access merchandise. We have cool stuff like T-shirts, hoodies, pop sockets, and water bottles available for purchase. All purchases will need to be picked up from the Full Access office. Check out our online store & buy some merch! Online Shop Here!
One Time or Monthly Contributions: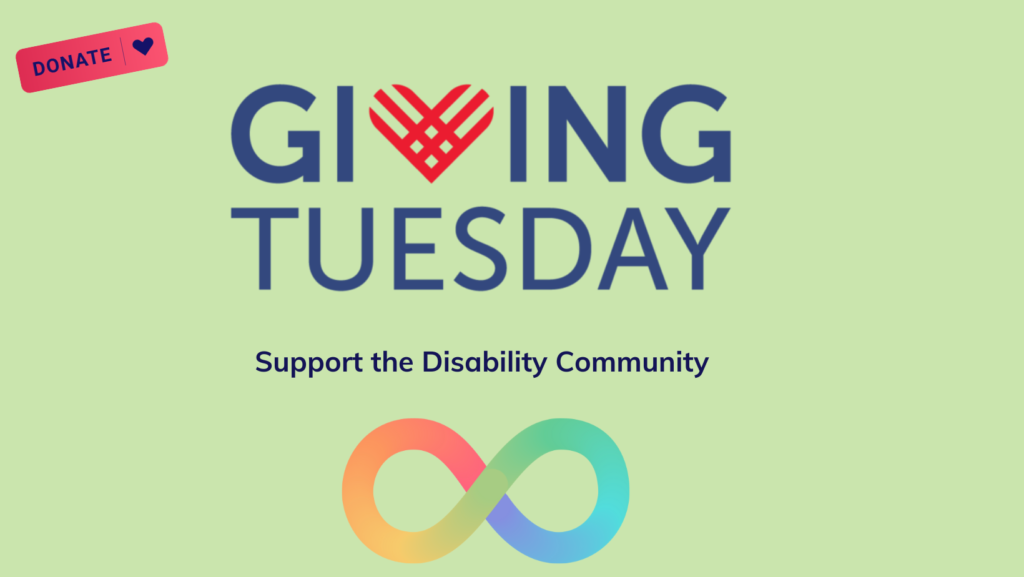 And of course, you can simply donate money for Giving Tuesday, on November 28th! You can make a one-time donation, or you can choose to give a little bit every month. Every bit of help counts!
Thank you for being generous and making Giving Tuesday a special day for people with disabilities. Your generosity means a lot to us and the population we serve. Click here to donate: